Presonus Inspire
RRP $429
Special $320
with full 2 year extended Australian warranty
The INSPIRE 1394 is a revolutionary FireWire Recording System featuring professional quality 24-bit/96k analog to digital conversion rate, four simultaneous inputs, software control panel as well as audio recording and production software giving you the smallest, most flexible, most affordable and all-inspiring computer recording studio ever!
Features
- 24-bit/96k A/D/A sample rate
- Four simultaneous input channels
- Two microphone/instrument preamplifiers
- Switchable line input or phono input(with RIAA filter)
- Software Control Panel and zero latency mixer
- Window XP and Macintosh OSX compatible
- FireWire bus-powered or powered externally
- ProPak Software Suite
Presonus Firebox with full 2 year extended Australian warranty
RRP $699
Special $550
The FIREBOX is the most powerful 24-bit/96k FireWire recording interface that fits in the palm of your hand. The FIREBOX is a complete 24-Bit/96k personal recording studio combining two high quality PreSonus microphone/instrument preamplifiers, 24-Bit/96k sample rate and Steinberg's Cubase LE 48-track recording software. The FIREBOX is the perfect hardware and software combination for a powerful professional-quality and compact computer-based studio.
The FIREBOX is the most professional-quality mobile interface in its class delivering the following:
- Higher-quality analog to digital converters (Dynamic Range 110dB)
- Class-A microphone preamplifiers - delivers more musical recording
- Ultra wide frequency response (10 - 50kHz)
- Road ready rugged build quality - metal chassis

Digidesign® Mbox® 2 Pro
The Digidesign® Mbox® 2 Pro is a portable, high-definition audio/MIDI production system
that delivers truly professional sound quality. Packing an impressive variety of connection options into a compact interface, Mbox 2 Pro puts powerful multitrack recording and mixing capabilities into your hands, so you can create wherever inspiration strikes. Mbox 2 Pro also includes award-winning, industry-standard Pro Tools LE™ software, over 50 effects and instrument plug-ins, and the Pro Tools Ignition Pack — a collection of powerful tools to get you started creating right away.
Features
* Award-winning Pro Tools LE recording, editing, and mixing software
* Comprehensive Pro Tools Ignition Pack software and audio tool collection
* Professional sound quality
* Powered by FireWire* or included power supply
* Supports up to 24-bit/96 kHz resolution**
* 6 simultaneous inputs/8 simultaneous outputs
* 4 analog inputs (2 XLR/1/4" TRS combo jacks & 2 1/4" TRS jacks)
* 6 analog outputs (1/4" jacks)
* 2 instrument DI inputs on the front panel
* 2 channels of S/PDIF digital I/O (RCA)
* Built-in phono preamp input (RCA) for direct turntable connection
* 1 MIDI input and output (16 channels in/16 channels out)
* MIDI Time Stamping (MTS) support for superior timing and accuracy
* BNC Word Clock I/O
* Low-latency monitoring
* Dedicated studio monitor outputs with volume control
* 2 stereo headphone outputs with independent volume controls
* 48V phantom power for condenser microphones
* Mbox 2 Pro list price: $1,235AUS | Mbox 2 Pro Factory list price: $1,385AUS
* Requires 6-pin connection for power via FireWire.
** Mbox 2 Pro does not support external sync at 88.2 and 96 kHz sample rates.
Pro Tools 7 is Universal Binary compliant

also available are
002 Rack
002 Rack Factory Bundle
002 Factory
002 Factory Bundle
www.digidesign.com

MOTU Traveler

The Traveler is everything you need to turn your computer into a mobile 24-bit, 192kHz digital audio workstation. Powered by your computer's FireWire bus, the Traveler gives you a complete, battery-operated studio wherever your recording projects take you.
The Traveler provides eight channels of pristine 192kHz analog recording and playback, combined with all of the digital I/O you need: ADAT optical, AES/EBU and S/PDIF (both TOSLink and RCA). Expand your system by connecting additional Traveler, 828 or 896 FireWire audio interfaces.
Precision Trim™ and on-board mixing
The Traveler's four microphone/instrument pre-amps are equipped with individual 48V phantom power switches and digital Precision Trim™ controls, conveniently adjusted from the front panel or the included CueMix Console™ software. No mixer is required, thanks to CueMix DSP™, the Traveler's latency-free, 8-bus digital mixer. Connect all of your studio gear, including microphones, guitars, synths, keyboards, drum machines and even effects processors. Then monitor all of these live inputs via the Traveler's main outs, headphone jack and/or any other output — with no latency and no processor drain on your computer. You can even create separate monitor mixes for the main outs, headphones and other outputs. Control everything from the CueMix Console™ software or directly from the Traveler's front-panel.
Bus power and extended battery operation
Time to hit the road? The Traveler slides easily into your backpack or briefcase and fits neatly beneath your laptop. Record in the most remote locations with the complete freedom of battery power. You can even use the Traveler as a stand-alone mixer. Tweak your mix on the spot with the Traveler's backlight LCD and front-panel controls.
Ideal for studio and stage
Back in the studio, mount the Traveler in your rack with the included rack ears. Eight channels of ADAT optical I/O make the Traveler an ideal companion for a digital console. The ADAT lightpipe connection supports sample rates up to 96kHz.
Additional features
The Traveler includes a 16-channel MIDI interface. Simply plug in your FireWire cable, and both MIDI and audio are ready to go. Connect any MIDI device, such as a controller keyboard, synth module, automated control surface or drum machine. Timing is sample-accurate with supporting software.
The Traveler provides cross-platform compatibility with Mac OS X (10.2.3 or higher), Windows Me/2000/XP and all of your favorite audio software and host-based effects via WDM/ASIO/Core Audio drivers. Or you can use the included AudioDesk workstation software for Macintosh, with 24-bit recording/editing and 32-bit mixing/processing/mastering.
www.motu.com
MOTU 896HD
The 896HD contains everything you need to turn your computer into a powerful 24-bit, 192kHz digital audio workstation. The 896HD provides 8 mic preamps, pristine 192kHz analog I/O, 8 channels of ADAT digital I/O and stereo AES/EBU. Expand your system by connecting additional 828 or 896 FireWire audio interfaces.
www.motu.com
MOTU 828mkII
The 828mkII contains everything you need to turn your Mac or PC computer into a powerful 24-bit, 96kHz digital audio workstation. With simple plug-and-play operation via FireWire or "high-speed" USB 2.0, the 828mkII provides 20 inputs and 22 outputs, including 10 channels of pristine 96kHz analog recording and playback, combined with 8 channels of ADAT digital I/O and stereo S/PDIF. Expand your system by connecting additional interfaces.
www.motu.com
UltraLite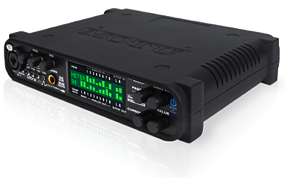 Your compact bus-powered portable studio is ready to go
The UltraLite bus-powered FireWire audio interface delivers everything you need to turn your laptop or desktop Mac or PC into a mobile 24-bit, 96kHz recording studio with 10 inputs and 14 outputs. And because it's bus-powered, the UltraLite gives you the ultimate freedom to make music anywhere, anytime.
www.motu.com

RME Fireface 400

Another killer from RME: The Fireface 400 is the only one in its class with active jitter suppression, stand-alone functionality, off-line MIDI remote controllability, highly flexible I/Os in professional quality, an unsurpassed 648-channel matrix router - at sample rates up to 192 kHz,
www.rme-audio.com

RME Fireface 800

RME's Fireface 800 is the world's most powerful FireWire audio interface ever. Up to 56 channels record/playback, up to 192 kHz sample rate, and true FireWire 800 sum up to an unsurpassed high-end, high performance and high speed FireWire audio interface. Since the Fireface first shipped in July 2004, the unit became the reference for FireWire audio - and still is today! Lots of 'world's first' and 'world's only' features put the Fireface 800 far ahead of the competition.
www.rme-audio.com