Yamaha

O1V96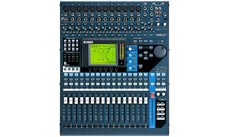 Digital Audio Mixer. Cutting-edge performance and reliability in a small, affordable digital mixer format that's perfect for the home or smaller professional production studio. 24 Analog & Digital Channel Inputs ... Expandable to 40. The O1V96 features 16 analogue channel inputs — 12 with high-performance microphone head amplifiers — and eight digital channel inputs via a built-in ADAT optical interface.
MG24/14FX and MG32/14FX
If your application is live sound reinforcement you'll want all the channel capacity you can get — just in case. Vocal mics, instrument mics, stereo keyboards, direct-injection feeds, drum mics, and the rest can add up very quickly. With 24 and 32 input channels, respectively, the MG24/14FX and MG32/14FX are ready to handle all but the most ambitious sound-reinforcement setups. And with dual SPX digital effect systems on-board you won't need racks of outboard gear to get the sound you need. There's also a comprehensive range of group and auxiliary busses to make even complex mixes easy.
MG12/4FX and MG16/6FX
If the idea of having some of the finest effects available built right into the console appeals to you, then consider the effect-enabled models: the MG12/4FX or MG16/6FX. You get the same type of versatile mixing power and superior audio performance that is provided by the non-effect models, plus leading Yamaha signal processing quality all in one console.
MG12/4 and MG16/4
The mid-range MG models go beyond the basics to give you extensive control for a wide range of applications — with the no-compromise Yamaha sonic quality that makes the MG mixers the finest in their class. Whether music is a hobby or profession, these mixers will deliver total satisfaction. If you don't need effects, or already have an arsenal of outboard favorites, the MG12/4 or MG16/4 may offer all the capacity and capabilities you need.
MG10/2 and MG8/2FX
If you simply need to mix a few sources to stereo — but insist on the finest audio quality available — the MG10/2 or MG8/2FX is probably the way to go. They're compact and convenient to use, but won't compromise your signal in any way. With an optional adapter the MG10/2 can even be mounted on a microphone stand for totally flexible positioning and easy access. And the MG8/2FX's built-in effects can take your music to a new dimension. For demo and music production, small sound reinforcement applications, or simply as a super utility mixer for any application, you can't lose with these compact performers.